The words "wisdom teeth" seem to have a negative response amongst our patients. Wisdom teeth are known to frequently cause pain and are famous for being difficult to take out. However, not all wisdom teeth cause pain or need to be removed. There are some people do not have any wisdom teeth at all! Wisdom teeth are the third molars (the eighth tooth) of our jaws and are the last teeth to erupt (usually around 18-25 years old).
Wisdom teeth can be impacted, which means they do not have enough space to fully erupt into the normal position and are blocked by teeth or bone. This is most likely due to our jaws being too small to fit all of our teeth. Impacted wisdom teeth often have a flap of gum over the tooth called the operculum, which can become infected due to food or bacteria getting stuck underneath it. This infection of the operculum is called pericoronitis and is usually very sore. It occurs mostly in lower impacted wisdom teeth.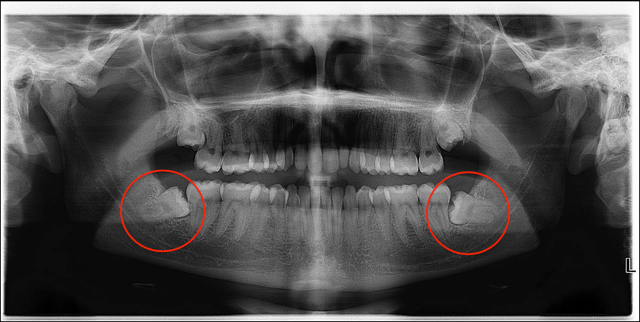 So, what are 3 signs that you may have impacted wisdom teeth?
You experience pain, which is usually a constant ache made worse when you bite together
Swelling and tenderness around your jaw
Inflamed, bleeding, red or tender gums around the wisdom tooth
Other associated symptoms you may experience are:
Funny taste
Halitosis (unpleasant breath)
Ear ache
Pain on swallowing
Tender or swollen glands
If you experience some of the above symptoms, please contact us to book an emergency appointment to have your problem assessed by one of our expert dentists. Dental infections, if not dealt with promptly, can get worse and can re-occur if not resolved.